World Synergy has won the 53rd Annual GDUSA American Graphic Design Award for the website and eCommerce design of client Chas. E. Phipps. Chas. E. Phipps officially launched their winning site in April of 2015, and has seen momentous success since the inception, now including this award.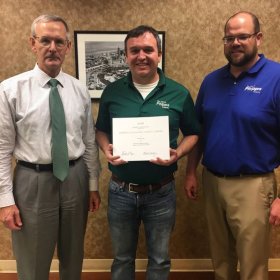 Left to Right: Dave Thomas, President, Matt Milos, Sales Representative, and Ben Brown, VP Operations of The Chas E. Phipps Company
Check out their website here.
For the past five decades, the editors of Graphic Design USA have joined thousands of creative professionals who have been recognized by this national design competition. The competition is open to every­one in the community: advertising agencies, design firms, corporate, institutional and publishing in-house departments, and more. It honors outstanding new work of all kinds: print, packaging, p-o-p, internet, interactive and motion -graphics. Winners receive an embossed Certificate of Excellence for each piece selected and are eligible for reproduction in the 53rd Anniversary GDUSA Awards Annual in print, online, digital and mobile – seen by over 100,000 colleagues and clients each year.
We are thrilled to share this success of great teamwork with Chas. E. Phipps. Seeing their progress is a reflection of collaboration and hard work.
This National award is well deserved!