World Synergy Wins Graphic Design USA (GDUSA) 2018 American Web Design Award for Roundstone Insurance Corporate Website
June 1, 2018 (Cleveland, Ohio) – World Synergy has been named winner of the 2018 Graphic Design USA (GDUSA) American Web Design Award for Corporate Responsive Website Design.
The responsive website was designed for and in conjunction with World Synergy client Roundstone Insurance, a Lakewood, Ohio based provider of captive health insurance solutions. The site launched in early 2018 and provides a completely responsive experience that meets the dynamic needs of customers, including a featured cost-savings calculator.
"When Roundstone asked us to partner with them on this project, we couldn't have been more excited. The ability to collaborate with such an amazing and forward-thinking organization and create a showcase solution was such a privilege." Said Glenn Smith, CEO of World Synergy. "We are honored to be recognized as winners of the 2018 American Web Design award, and proudly share this with our partners at Roundstone Insurance."
Creative Director Jay Kozar, and Senior Applications Engineer Ross Ritchey created a visually strong responsive website that provides ease of use and functionality to Roundstone's clients. World Synergy and Roundstone Insurance are planning the launch of Roundstone University, an online learning management system, which will debut later this year.
This marks World Synergy's third year in a row winning the GDUSA American Web Design Award, a feat for the company as they continue to grow and expand their web design solutions.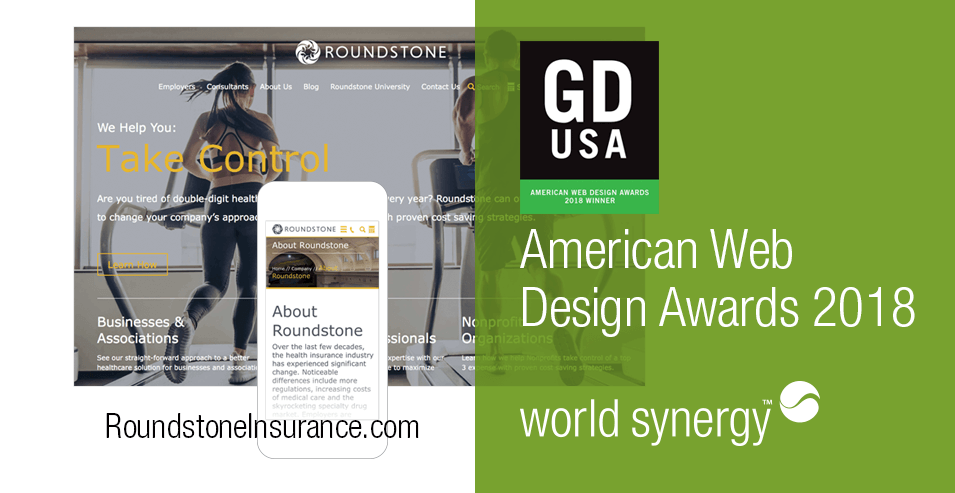 About World Synergy
World Synergy assists clients with integrated business service needs by offering a unique and customized combination of Marketing, Applications, and Technology solutions. Created specifically for owners and executives, World Synergy's proven Integrated Business Services Model helps clients achieve scale, longevity, growth, and profitability while driving company alignment and revenues, and reducing business friction and costs.
About Roundstone Insurance
Roundstone Management, Ltd. ("Roundstone") based in Lakewood, Ohio is an insurance organization offering middle-market employers (20-1,000 employees) a proven health insurance solution. Roundstone delivers an alternative to ever-increasing insurance costs through transparency, control and cost savings. For more information on Roundstone, please visit RoundstoneInsurance.com.
About GDUSA
GDUSA's 55-year-old flagship graphic design awards competition is open to everyone in the community: graphic designers of all kinds; corporate and non-profit, in-house departments; ad agencies and marketing firms; universities and colleges, and more. For the past five decades, the editors of Graphic Design USA have joined thousands of creative professionals who have been recognized by this national design competition.