May 31, 2018 (Cleveland, Ohio) – The City of Beachwood officially proclaimed May 17, 2018, as "World Synergy Day." City of Beachwood Mayor Martin S. Horwitz announced the proclamation at World Synergy's 20-year anniversary event.
"After being founded in Chagrin Falls and then residing in Solon for 15 years, it's an honor that we get to celebrate with World Synergy as a Beachwood establishment for their 20th year," said Mayor Horwitz. "To Glenn and World Synergy, and all the business owners we have here with us today, congratulations on taking the leap to build something so successful that we can now all celebrate."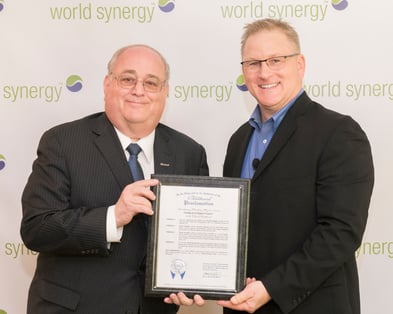 Mayor Horwitz and Glenn Smith
The event, held on May 17 at the DoubleTree by Hilton in Beachwood, Ohio, brought together more than 100 guests for an exciting afternoon with top industry experts as they discussed the challenges and opportunities of the coming years in security, technology, marketing, finance, and healthcare. Guests from across Northeast Ohio gained leading market insight and knowledge on how they can begin to leverage their business for the changes ahead in various industries.
Speakers at the event included Assistant Special Agent in Charge, Gunner Wagh of the FBI, who gave a keynote presentation with insight on the global era of cybercrime. Perry Braun, Executive Director of Benefit Advisors Network, presented on the future of employee benefits, healthcare delivery and finance, health insurance, and their alignment with an employer's human capital management strategy. Glenn Smith, CEO of World Synergy, gave insight on the importance of an organization's essence in the age of Amazon. Finally, Gary Wagner, Principal at Carnegie Investment Counsel, explained to the audience how to navigate investments in a disruptive economy.
Keynote Speaker Gunner Wagh
The event concluded with a panel and Q&A presentation including all speakers, as a well as a happy hour that encouraged networking among guests and World Synergy employees.
"Breaking downs silos and creating unified solutions has been the key to our success," said Glenn Smith. "We are very proud and honored to serve our customers and celebrate this milestone."
Following the success of this event, World Synergy plans to host quarterly educational seminars, starting this Fall.