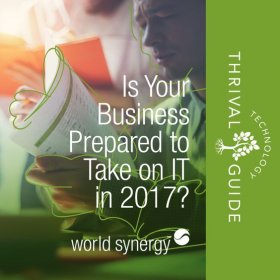 Every year, the IT industry reaches new levels of innovation, advancement, and drive to keep the ever-evolving and technologically-driven world moving forward.
2016 was no exception, and the past year brought exceptional development and progression in IT products and services – leading to 2017, where the IT industry is showing no signs of slowing down.
Is your business aware of the key trends, challenges, and opportunities that may impact your organization and influence your strategy in 2017?
We have a few key highlights on how the IT industry performed in 2016, and where things are expected to head in 2017 – and most importantly, why your business should care.
Worldwide spend on IT products and services is expected to reach $3.5 trillion in 2017 – up from the expected spend of $3.4 trillion in 2016*. This is only expected to increase over the coming years, meaning its time to include a focus on IT in your fiscal year's budget. To give you an idea on the cost of IT operations, check out our breakdown.
If your organization identifies with the Financial Services, Manufacturing, Media, or Professional Services industries, you should be familiar with the importance of IT support and services. In 2016, these industries generated nearly 1/3rd of worldwide IT revenues. Trends show that 2017 will bring a new industry to the list – introducing the Healthcare sector, which is expected to have the fastest growing growth rate in IT spend this year.
Given many of the major security hacks that took place in 2016, network and website security will continue to be a huge IT focus in 2017 for the protection of organizations and consumer information. Network and website security attacks pose a threat to personal information and data, and can ultimately ruin an organization if you are not protected properly or prepared with a back-up solution. Your organization should be working with an IT provider that supports disaster recovery and backup, and always prioritizes your safety.
To learn more about how World Synergy can help your organization prepare for the IT advancements expected in 2017, contact us at 440-349-4940.