Team Donates Quarterly Bonus to Provide Christmas Gifts for Children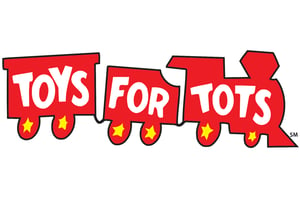 December 21, 2016 (Cleveland, Ohio) – World Synergy employees have chosen to donate their bonus to Toys for Tots this holiday season. Members of the World Synergy team happily donated their quarterly bonus to provide an exciting Christmas morning for children who may not have been fortunate enough to receive any gifts this year.
As a part of an employee incentive program, World Synergy offers bonuses for hitting economic and customer satisfaction goals. Teams are then encouraged to use their funds to participate in a group event to celebrate success and build camaraderie amongst the group.
Account Strategist, Michael Yaeger, proposed the idea of the donation and the entire team immediately got behind the idea. Yaeger states, 'We could have gone out to dinner, did an event as a group, or simply taken the bonus in a year-end payout, but the smiles that we'll bring to tiny faces this coming Christmas morning is much more meaningful to each of us."
Marine, Timothy Sherman (Region 3 Service Director AMVETS) will help to facilitate the donation. A $750 check will be presented to Sherman by the team at World Synergy this Wednesday, December 21, 2016.
"World Synergy was built on the foundation that we treat others the way they would want to be treated. It is fulfilling to see we have a team of people who believe and live that message," said Glenn Smith, CEO and founder of World Synergy. "It feels good to give during the holiday season. We hope this helps make just a few Christmas mornings more joyous."
About Toys for Tots
Toys for Tots was founded in 1947 and adopted by the Marines in 1948. 97% of all donations to Toys for Tots goes to the mission of providing toys, books and other gifts to less fortunate children.
About World Synergy
World Synergy offers integrated business services with a unique combination of Marketing, Applications Development, and Technology services created specifically for owners and executives. Together, we evaluate your business needs and tailor solutions to achieve a maximum return on your investment.
Contact:
Glenn Smith
CEO, World Synergy
gsmith@worldsynergy.com
440.349.4940